Save a Heart Initiative for underprivileged children
Kauvery Hospital, city's renowned multi-specialty hospital, invites applications from the economically backward parents seeking funds to support the treatment of their children ailing with cardiac problems.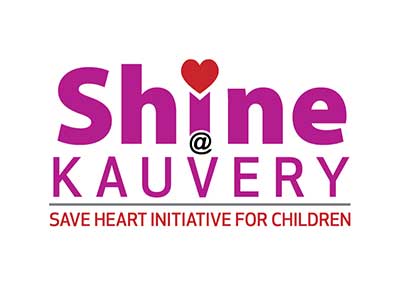 Towards supporting the cause, the hospital has recently (3rd August 2014) launched 'SHINE@Kauvery' - a save heart initiative for children. This is a sincere effort to instill hopes in the hearts of little ones who would grow up and shape the country`s future. The project`s primary objective is to provide partial financial assistance to children from underprivileged sections of the society, irrespective of their place of origin in the world. Additionally, the project will also act as a platform for a Parent Support Group for parents of children who have undergone cardiac procedures at Kauvery Hospital, empowering them to help each other through interactions and to offer support to parents of children awaiting cardiac surgeries.
The Corpus fund, gained through donations from kind hearted donors and charitable organizations, will be used for partial relief of financial needs for in-hospital procedures in deserving children and adults with birth defects of the heart. Child actor Satya Dev is the Brand Ambassador for project SHINE@Kauvery and will contribute towards creating awareness on cardiac problems in children, emphasizing the need for early medical attention which then allows them to grow up as healthy individuals.
SHINE@Kauvery will also partner with Global Heart Network Foundation - an international NGO based in the United States of America and help children with heart disease all over the world. This collaboration is intended to widen the reach of the care-giver and the care-receiver and put each of them on a global platform.
Donate today and gift a child a better TOMORROW.
For Donations Contact: Mr. M. Bose Phone: +91 7338778877 | Email: bose@kauveryhospital.com