Volume 2 - Issue 5
Saccular abdominal aortic aneurysms: a case series
Arunagiri Viruthagiri1,*, Nedounsejiane Mandjiny1, Anand Subramaniyan2, G. Pravin Kumar3, V. Senthilvelmurugan4
1Department of Vascular and Endovascular Surgery, Kauvery Hospital, Trichy, Tamilnadu, India
2Department of Cardiology, Kauvery Hospital, Trichy, Tamilnadu, India
3Department of Cardiac Anaesthesiology, Kauvery Hospital, Trichy, Tamilnadu, India
4Department of Radiodiagnosis, Kauvery Hospital, Trichy, Tamilnadu, India
*Correspondence: vasanthgiri@gmail.com
Background
Abdominal aorta is the most common site for aneurysms in the arterial tree. Abdominal aortic aneurysms are classified as fusiform or saccular based on the morphology. Majority of the treatment guidelines concentrate on fusiform aneurysms which are more prevalent. However, saccular aneurysms are more common in our part of the world compared to the western society. Herein we would like discuss the management of two interesting cases of saccular abdominal aortic aneurysm.
Case Presentation
Case 1
A 44-year-old male presented with acute onset of excruciating pain abdomen for two days. He presented two years before with an acutely ischemic left leg at Kauvery Hospital, Chennai. On evaluation, he was diagnosed to have multiple saccular abdominal aortic aneurysms with thrombosis of the left popliteal artery. He underwent left popliteal thrombectomy and was advised open repair for aortic aneurysm at a later date. But patient deferred the management of abdominal aortic aneurysm due to personal reasons. He was prescribed Dabigatran (Directly Acting Oral Anticoagulant) and Clopidogrel. He was treated for Tuberculous Lymphadenopathy in 2017 for a year and was declared free from Tuberculosis. He didn't have any other major co morbid illness.
He was admitted and underwent an urgent CT angiogram in view of acute pain abdomen. Imaging showed multiple saccular aneurysms in the infrarenal Aorta with involvement of the right common iliac artery. The largest of saccular aneurysm was at the level of aortic bifurcation (Fig. 1). There was no other acute intra-abdominal pathology other than saccular aneurysms to account for the acute onset of pain abdomen. His white cell count and inflammatory markers were mildly elevated. Endovascular Aortic Aneurysm Repair (EVAR) was not offered in view of the unsuitable anatomy and the inflammatory etiology.
Intraoperatively, he was found to have contained rupture of one of the saccular aneurysms (Fig. 2). He underwent open aneurysm repair with Rifampicin soaked 16 × 8 mm bifurcated Dacron graft and omentoplasty (Fig. 3). Omentoplasty was performed in order to reduce the chance of graft infection and Aorto-enteric fistula. He had an uneventful postoperative recovery.
He was discharged on post-operative day 7. The sac and thrombus sent for histopathology examination showed nonspecific changes. He is being maintained on oral Penicillin as it was an inflammatory aneurysm. At four weeks of follow up, he is doing well.
Fig. 1. Saccular aneurysm at the level of aortic bifurcation.
Fig. 2. Multiple saccular aneurysms filled with thrombus at aortic bifurcation.
Fig. 3a. Left Renal Vein, (b). Proximal anastomosis at infrarenal aorta, (c). Distal anastomosis at right common iliac artery.
Case 2
A 48-year-old lady presented with upper abdominal pain for one month. The pain was vague with no specific aggravating or relieving factors. She had lost 2 kg of body weight in one month. She had no history of fever, altered bowel habits or malena. She did not have any other co-morbidity. On evaluation, her inflammatory markers (ESR and CRP) were markedly elevated. CT Angiogram revealed an inflammatory rind (thickening) around the visceral segment of the abdominal aorta and a focal out- pouching at the level of celiac artery (Figs. 4a and 5). There were no clinical or imaging evidence for Takayasu's Aortoarteritis. She was diagnosed to have Non-specific Aortitis with saccular abdominal aortic aneurysm.
She was initiated on Tab. Prednisolone 40 mg once a day and Cap. Doxycycline 100 mg twice a day for a duration of six weeks. Her family members were explained the rationale of starting steroids, the benefits and risks of non-operative management. At six weeks, the inflammatory markers returned to normal. A repeat CT scan showed complete resolution of the periaortic inflammatory activity (Fig. 4b) and reduction in the size of saccular aneurysm by 5 mm.
Subsequently, Prednisolone was tapered gradually to a dose of 10 mg. She is being followed up every month. Her inflammatory markers, blood sugar and blood pressure are being monitored regularly. In her last follow up at six months, she is symptom free. She is being planned for a repeat CT scan.
Fig. 4a. Peri-aortic rind (thickening) prior to treatment, (b). Near disappearance of periaortic rind after treatment.
Fig. 5. Saccular abdominal aortic aneurysm seen at the level of celiac artery.
Discussion
Index patient 1 presented with acute onset of pain abdomen without any constitutional symptoms. He had been diagnosed with multiple saccular aneurysms in his abdominal aorta, 2 years ago. During this admission, CT angiogram of the abdomen did not reveal any other pathology apart from the saccular aneurysms. The patient was taken up for surgery in view of the symptomatic saccular abdominal aortic aneurysms. The clinical decision to operate on him corroborated with the intra-operative finding of contained rupture from one of the saccular aneurysms.
Index patient 2 presented with vague abdominal pain for a duration of one month. She had constitutional symptoms i.e., fever, weight loss. Her inflammatory markers were markedly elevated and the CT scan revealed inflammatory rind (thickening) around the visceral aorta. The cumulative picture of vague abdominal pain, presence of constitutional symptoms, raised inflammatory markers and imaging evidence of active inflammation around the aorta made us decide towards non-operative management in this patient. At 6 months of follow up she is symptom free and doing well.
Conclusion
Saccular aortic aneurysms are a challenging clinical entity. The presence of an aneurysm rings alarm bell for the practicing clinicians. However, the clinical presentation, inflammatory markers and imaging dictate the management strategy which has been amply demonstrated in these two clinical scenarios. The surgical aphorism "When to operate and when not to operate" has been vividly demonstrated in these two patients.
Dr. Arunagiri Viruthagiri
Vascular Surgeon
Dr. Nedounsejiane Mandjiny
Vascular Surgery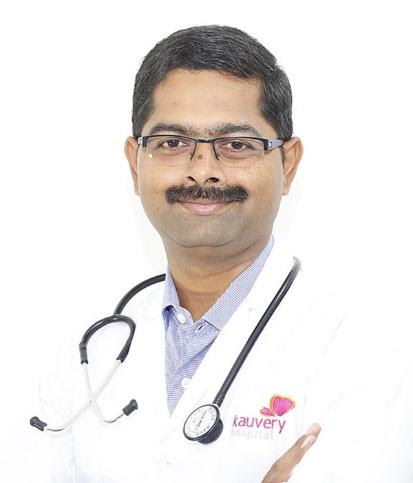 Dr. Anand Subramaniyan
Senior Consultant Interventional Cardiologist
Dr. G. Pravin Kumar
Consultant Cardiac Anaesthesiologist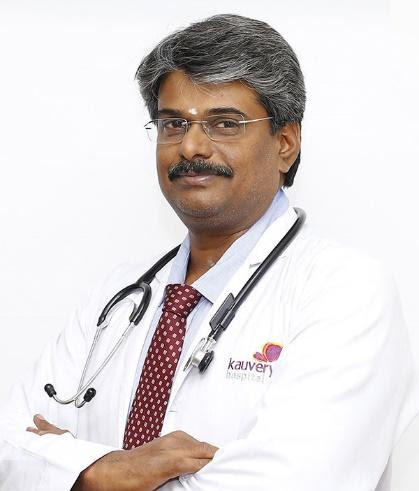 Dr. V. Senthilvelmurugan
Radiology