Hello you beautiful human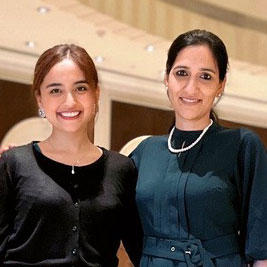 Welcome to the 1st day of January – the day of new beginnings! While for most people this is the day for spending time with family and friends whether it's eating yummy food, wearing new clothes, watching the new Avatar movie, or spending the evening at Marina or Besant Nagar beach, we know for doctors, nurses, and healthcare professionals it often means a day at the hospital. However, it is still a special day within the walls of the hospital where smiles, laughter, and joy are shared. Inside Kauvery hospital the spirits are high because the patients are our family members.
While the holidays can be an exciting time, we understand that it can be a bittersweet experience for our patients. Being stuck within four walls separated from friends, work, and life, especially around the holiday season can be discouraging and frustrating for them. And that is why Kauverians go all out to create a sense of normalcy in the hospital. Every single Kauverian right from security, housekeeping, F&B, admin, and nursing to doctors becomes the CHEERS crew. The HR team organized a Christmas decorating contest and everyone came together to deck up their respective floors. December was also a month filled with fun events organized by the super enthusiastic Medical admin team. Dancing, singing, dumb charades, and a whole lot more. You're probably wondering if we're talking about a hospital. Yes, we are! We want to make the most of every moment.
Healthcare is so much more than surgeries, antibiotics, and injections. Being a Kauverian means making the most of every moment with each other and with our patients. Grateful that our patients are here fighting, even on the toughest days and that is worth celebrating. Being a Kauverian means knowing when to make a patient laugh and when to hold their hand in silence. For our clinical and support team, it doesn't matter if it is a weekend or a holiday, they do it all with a heart full of empathy. We are Kauverians, and we absolutely love what we do.
We hope this is the year where you find hope again. Remembering that the sun always sets and rises again the next day. Let's continue to believe that most clouds really do have silver linings.